Movie Review: Gangster Squad
Set during the 1940s and '50s, Gangster Squad tells the chronicle of the fight for Los Angeles between mob king Mickey Cohen and LAPD detectives, who form a specialized unit called "The Gangster Squad" in order to bring Cohen and his gang of thugs to justice.
Gangster Squad is the ultimate gangster film of the year. Filled with bloody shootouts, explosive car chases, and one violent mobster, this film rings in the new year with an amazing story, cast, and set. Set in post-WWII Los Angeles, where the mob rules the town, six LAPD detectives set out to take down Mickey Cohen (Sean Penn), who has become the ultimate mob king. Within the Squad, there's the loyal married-man Sgt. John O'Mara (Josh Brolin), hard-headed detective Coleman Harris (Anthony Mackie), wire-tapper and the brains of the group Conway Keeler (Giovanni Ribisi), and legendary gunslinger and gangster-killer Max Kennard (Robert Patrick). Kennard's prodigy, Navidad Ramirez (Michael Peña), reluctantly joins the group after he overhears the Squad's plans. Also to join, is ladies-man and close friend of O'Mara Sgt. Jerry Wooters (Ryan Gosling), who later gets involved with Mickey's girl, Grace Faraday (Emma Stone).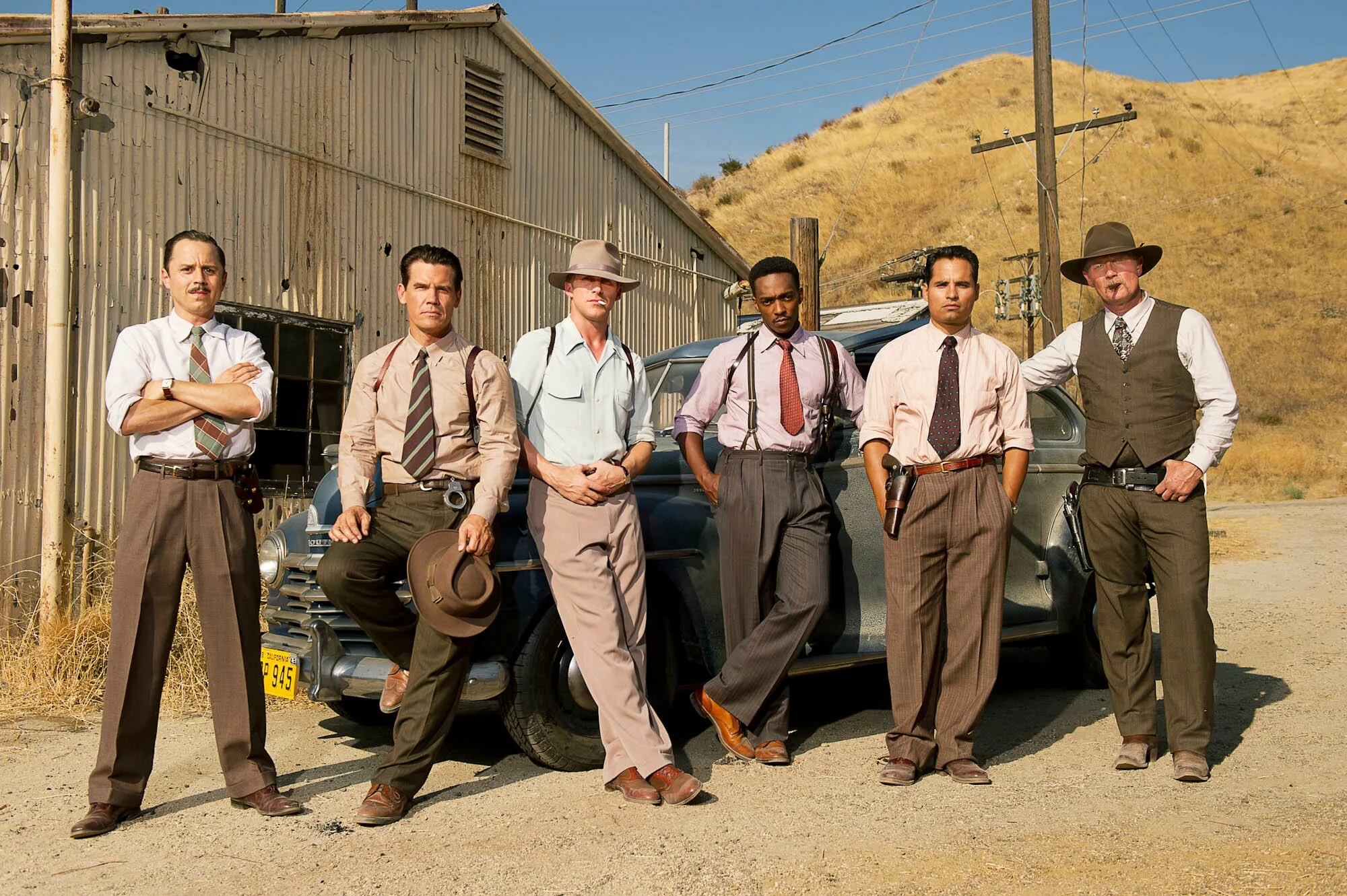 As the story continues, the Gangster Squad soon begins to quickly dismantle Cohen's crime empire with swift hits to his casinos and clubs, burning his money and killing his men in the process. After a long and dangerous war between the mob and the LAPD, Cohen soon lures the unit to the Park Plaza Hotel, that ends the chronicle with a violent shootout, and an even more violent fist-fight between O'Mara and Cohen, leading to Cohen's demise and arrest.
Gangster Squad was over-all an amazing movie, with its dark 50's LA environment, its dangerous depiction of the mob, and, best of all, its violent portrayal of the villain Mickey Cohen. Sean Penn does an amazing job as the Jewish-born gangster, who later rose to occupy Los Angeles with his powerful crime organization. Penn really brings out his dark side in this film, as he becomes a reckless mobster who won't stop until he rules over all of LA, killing anything that gets in his way.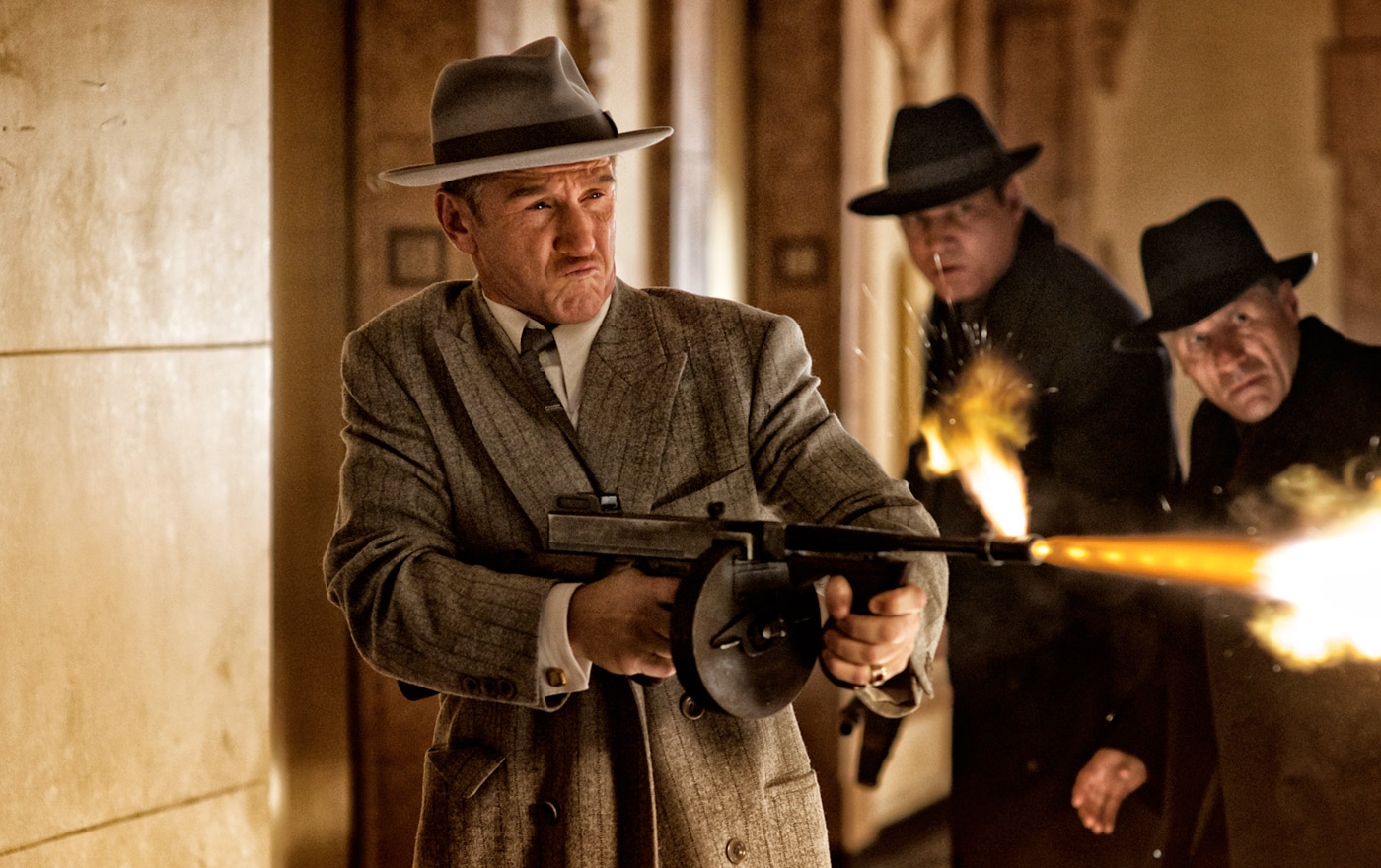 Another thing I enjoyed in this film was, of course, the Gangster Squad itself. Lead by the loyal John O'Mara, the Squad rose to overthrow Cohen with powerful strikes to his growing crime empire. The characters portrayed in this film were very fun to watch and hard to hate. The suave, slick ladies-man Jerry Wooters, played by Ryan Gosling, was one of my favorites because he didn't just join the Squad because he was told to, he joined after Cohen's thugs accidentally killed a street kid who Wooters had come to know. This had motivated him to go after Cohen for not only justice, but revenge. I think this film portrayed those characters well and kept the plot simple and also quite entertaining for everyone who loves a good gangster film about covert cops, corrupt crime, and a raging battle for Los Angeles.
I gave this film a 8 out of 10 because it was very entertaining with all its violence and great casting, but it might not live up to its gangster portrayal like previous films like L.A Confidential or The Untouchables, that many people have come to know as the ultimate gangster movies.